News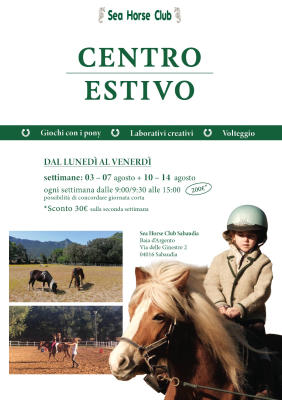 Aprile 2015 - Celebrities al Sea Horse Club!

La più popolare cantante tedesca Beatrice Egli ha scelto il nostro maneggio per vivere una bellissima esperienza a cavallo che verrà raccontata in un film girato al Sea Horse Club e che è stato trasmesso sulla principale rete televisiva tedesca, per vederlo cliccate su questo link (dal minuto -27,38 al -23,43).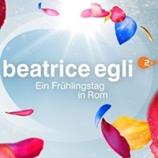 Beatrice Egli - Ein Frühlingstag in Rom
ZDF.DE|DI ZWEITES DEUTSCHES FERNSEHEN (ZDF)
Spring 2013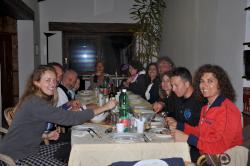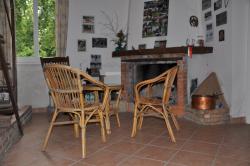 Our new club-room – ready to host you!
April 2013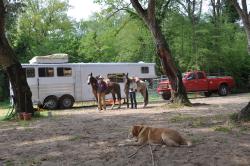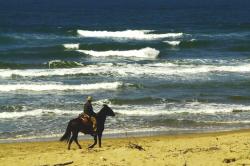 Manuela and Clark from Austria are on the road for 2 months with their mobile home with their 2 Criollo mares and remained at our stables to enjoy some beautiful rides on the beach of Sabaudia.
Fiera Cavalli Fair, 12th - 15th April 2012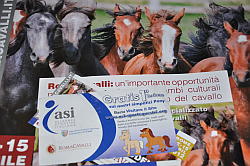 We collaborated at the annual horse fair, organizing a variety of didactic initiatives for local school kids.
February 2012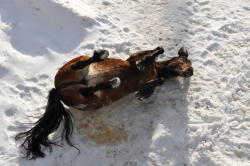 The "sea horses" see snow for the first time.
Ottobre 2011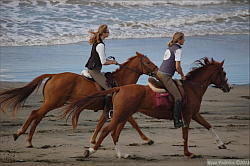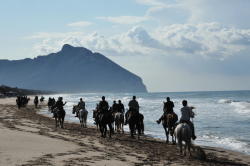 RADUNO, two days on horseback in our surroundings, 7th to 9th October 2011

...yet another spectacular event!!!

(7th Raduno, as every year we were about 100 riders)
May 2011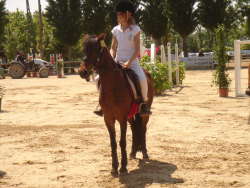 One of many past and future competitions (Ninfa ..., result: first exaequo)

March 2011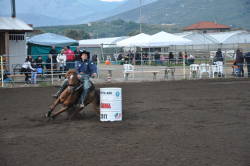 One of our members taking part in a Rodeo competition.

RADUNO, two days on horseback in our surroundings, 8th to 10th October 2010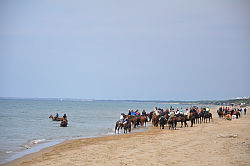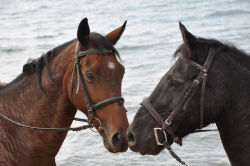 Most riders who participated in the Raduno 2009 kept their promise and returned with many friends to take part in this year's event, organized by the Associazione Cavalieri delle Terre Pontine, to enjoy the beauty of our country-side, the Paola lake as well as the long and unspoilt beauty of our beach, to re-live an emotional experience in the middle of nearly 100 riders and at the same time renew friendships and have a wonderful time.
January 2010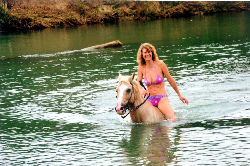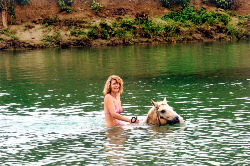 Wow!! What a fantastic experience!! We were swimming with our Caribbean horses (Paso Fino) in a river in the Dominican Republic. Would you like to try that?

December 2009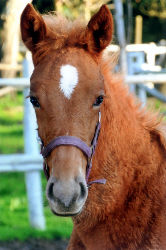 Soñiador, our new arrival,
5 months old, of the Maremmanian race.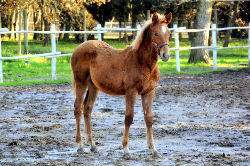 Article in "Mein Pferd", October 2009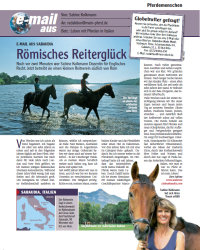 Sabine wrote an article on her life with horses for the monthly equestrian journal Mein Pferd published in Germany.
Raduno, two days on horseback in our surroundings, 2nd to 4th October 2009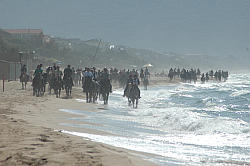 The event was organized by the Associazione Cavalieri delle Terre Pontine and we were represented by 8 members. Participants came from all over Italy and many of them were fascinated by our beautiful surroundings when we took them cross country, through our woodlands, around Lago di Paola lake and in particular along the magnificent Circeo promontory, laden with history and myth to finally arrive and ride on one of Italy's most beautiful beaches.
Transumanza, reliving an ancient tradition, 25th to 27th September 2009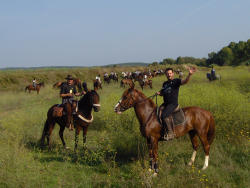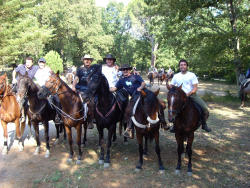 Marco (on the left) and various members of our club (on the right) participated in this very special event which takes place each year. It has its origins in the tradition initiated ca. 2500 years ago of moving livestock from the Pontina lowlands which are very fertile in the summer to the higher regions of the Monti Simbruini (in the Maremma region) which are better for the other period of the year. Reliving this ancient experience brought the participants days of being isolated from the rest of the world, far away from civilization, no cell phones, just beautiful nature…and many horses.
"Giostra della Quintana" Show, 22 August 2009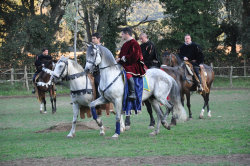 For this special event we invited a group of folkloristic riders to represent the Quintana, an ancient game which was performed for the first time in 1557.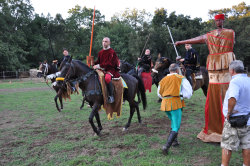 It involves riders dressed in traditional clothing racing with a type of very long spear in their hands towards a wooden figure holding rings of various sizes in its hand, starting with a diameter of 10 cm to arrive at 4 cm.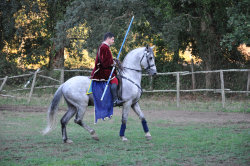 The group consisted of 6 riders. Amongst them Mattia Augusto (on the left) who came first on his Maremmanian horse Piccolina and Igino di Re with King, an Arab horse who took second position. You can see them on the right.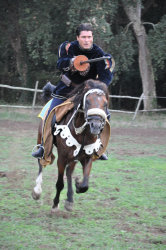 Some of the horses which stayed at the Sea Horse Club during the summer of 2009:


Diego's Olimpo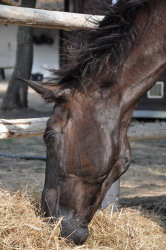 Hi friends,

I'm Olimpo, I am of the Maremmanian race and am 7 years old.
I live in Tuscany but as often as I can I like to come to Baia d'Argento (Sabaudia) where I feel very much at home.

See you soon, Olimpo
Cristian's Atractivo Jr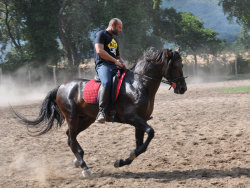 This is Atractivo Jr., a young Spanish stallion of the Andalusian race. He is still being taught the High Spanish School, which involves a series of movements based on the natural behaviour of a horse to improve his body and to excel his excellence.
This summer Atractivo and his owner Cristian took the opportunity to go out hacking and have some beautiful cross country rides in our surroundings in the national park and along the beach.