How to find us
Where we are and how to find us:

Via delle Ginestre, 2
Baia d'Argento
04016 Sabaudia (LT)

Baia d'Argento is situated between the touristically well known and beautiful places of Circeo and Sabaudia, renouned for its breathtaking beach, in the province of Latina. It is a magic place where you have the incredible choice of the Mediteranean Sea, the lake, a huge forest with ancient cork oak trees and the mountain of the witch Circe.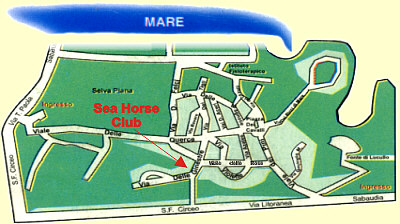 */?>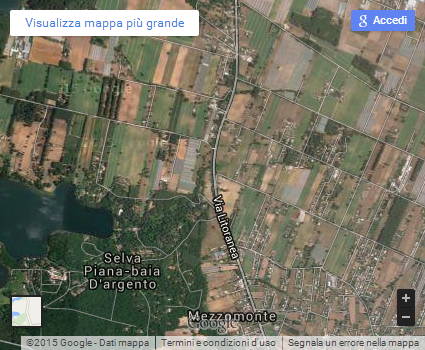 Visualizzazione ingrandita della mappa

By car from Rome:
Leave Rome on the Pontina (ss148 – one of the major arteries going south and exit 26 from the ring road), after about 65 km you reach a fork, take the right indicated "Sabaudia, Terracina e Napoli", after less than 30 km you reach a roundabout, take a right turn for Sabaudia, at the next roundabout turn left (roadsign: "San Felice 10 km"). Go straight for 7 km and you will find a sign on your right "Condominio Baia d'Argento", turn there, after ca. 500m turn left into Viale delle Rose, follow the road until you get to a T junction (ca. 500m) where you see a sign of Via delle Ginestre 2, turn left, 50m and you'll find the Sea Horse Club on your right.

N.B.: Please do NOT use the name of our street for the navigator.
The coordinates for the navigator are: 41'15'00' north, 13'03'47' east.

By bus from Rome:
Busses leave quite frequently from Rome (Metro station Laurentina) for Circeo. It takes a bit over an hour. You need to get off after Sabaudia between the little villages of Molella and Mezzomonte. The bus stop is about 5 - 10 minutes walking distance from our stables. You will find the applicable time-table and price if you search for "pullman COTRAL Circeo".

By air: from Ciampino or Aeroporto Roma Urbe (Via Salaria 825), 40 min flight time, for further information see Flying Club Sabaudia.